Haiti Should Not Be In Caricom
- Jamaica Gleaner Chairman Clarke
- Suggests Removal Of Secretariat From Georgetown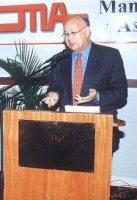 Oliver Clarke delivering the feature address at the Guyana Manufacturers' Association's (GMA) annual dinner and awards presentation on Saturday [February 14, 2004].
Leading Jamaican businessman Oliver Clarke has questioned the wisdom behind Caricom's inclusion of Haiti as a member, called for the Caricom Secretariat to be shifted from Georgetown and says the region has to focus on improving the living standards of its people by pushing the single market among other things.
Clarke, the Chairman of the Gleaner Co. Ltd - which publishes the Jamaica Gleaner - and also the Immediate Past President of the Private Sector Organisation of Jamaica was the feature speaker at the Guyana Manufacturers' Association's (GMA) annual dinner and awards presentation held on Saturday at Le Meridien Pegasus Hotel.
In a wide-ranging address on the region, he said that it is inappropriate for small countries in the Caribbean to be expected to solve Haiti's problems, which, according to him, are probably unsolvable "when we have so many of our issues which go unresolved." He said that the inclusion of Haiti in Caricom should be reconsidered. Haiti became a member of Caricom in 1998.
"The other member states have so many problems of their own that dealing with a civil war in a failed state, wherever geographically located, should not take up so much time," he said.
Clarke asked whether it would not have been better if Caricom had signed a trade agreement only, as was the case with the Dominican Republic, Haiti's neighbour on Hispaniola.
He said that Haiti has a population of over 7 million and the lowest per capita income in the region and a long history of democratic failure. According to Clarke, Haiti's French-speaking population is greater than that of all of the Caricom member states. "What does its inclusion in Caricom add to the other members?" he asked.
One of his menu of measures for improving the standard of living of the region's citizens is to re-evaluate the viability of many of the regional states.
Haiti aside, Clarke said there are still many Caricom states which are economically, and in terms of governance unviable. "I doubt that states with a population of less than 500,000 - to choose an arbitrary number - have a future in tomorrow's world unless they are sitting on top of concentrated natural resources," he said.
He said too that Caricom should encourage its smaller and less viable members to consider closer political cooperation. "This is obviously politically unattractive, especially to politicians whose numbers are directly multiplied by the number of states. But to many citizens forced migration for economic reasons or starvation is even less attractive," he said.
Clarke cited a 2002 assessment of 'regulatory quality' which he said attempted to measure the incidence of market-unfriendly policies such as price controls or inadequate bank supervision as well as the perceptions of the burdens imposed by excessive regulation. He said that Guyana ranked below the regional average and ranked above only Suriname, Haiti and Cuba.
According to Clarke, the same study looked at the effectiveness of "the rule of law" and it stated that in terms of this, Guyana ranked below the regional average and ranked above only Cuba and Haiti. He said that Suriname and Jamaica also fell below the regional average in the assessment.
"In today's world can Montserrat with its 10,000 population, St Kitts and Nevis (40,000) or Dominica (70,000) provide their people with an attractive future?"
Another key recommendation Clarke made to the manufacturers' meet was for Caricom to set up the Caricom Single Market and Economy (CSME) "even if it is just a warm up to the Free Trade Area of the Americas (FTAA)." And for this he believes that the Regional Negotiating Machinery and the CSME unit at Caricom should be combined.
He added that Caricom rule of moving forward only if all members states were in agreement should be discontinued. "This would allow at least the four decisive countries of Guyana, Trinidad, Barbados and Jamaica to finalise these trade arrangements. Let others join as they wish later". He called for an extensive public relations programme using government information services as well as other resources.
Clarke said that to introduce what may be the most comprehensive free trade area in the world without "a dollar" being spent on an education campaign seems short-sighted. "How can we encourage the public's support of the CSME when there are no funds available for the necessary public educational programmes?" he asked.
During Clarke's speech, he questioned whether Guyana was the best location for the Caricom Secretariat. He added that the organisation is the driver for regional integration and the creation of the CSME. "To locate it in a country that is not near to the geographic centre of the region, in a country that is gaining so quickly such an unfortunate reputation for crime...and in one that is not the best exemplar of economic growth...does not appear to be the most rational decision," he said. President Bharrat Jagdeo, who was also at the forum, in a spirited response, said: "I will fight the removal of the Caricom Secretariat [from Guyana] tooth and nail."
Clarke also called for relevant and measurable goals to be set for Caricom. "In most people's eyes Caricom is seen as a political club rather than a dynamic organisation de-signed to uplift the economies of the Caribbean. This should change", he said. He called for hard decisions to be made saying that the Caricom Secretariat "should be moved to the most effective and convenient location" and the unanimity rule should be qualified to permit quick movement by those governments prepared for it. He added that the focus of Caricom should be on economic growth and job creation. He posited that civil society and the private sector should be involved in the establishment of these goals and must demand performance.
Another recommended area of action was taking demonstrable action against big regional problems and for this he put forward the following suggestions:
Tackling incompetent governance
Putting crime and drug running at the top of the regional agenda
Saving money where possible
Stopping corruption
Strengthening Caribbean business organisations
Promoting inter-Caribbean investment and trade.
On the governance issue he homed in on civil servants. "Politicians do now come in for damning criticism of their performance throughout the region. In most cases this is well-deserved. But the people that have truly failed the region are its civil servants. If the checks and balances that should exist within our governmental structures were kept functional then our lives would be quite different".
Turning to the drugs front he warned that every Caribbean country faced enslavement from drug barons and narco-crime had to be reined in. "We probably need to start by having external inspections of our law enforcement agencies and then be prepared, if need be, to import foreign law enforcement officers to rebuild our competencies", he said.
Real efforts, he argued, needed to be made to root out corruption. He pointed out that in Jamaica an anti-corruption commission had been established to receive, analyse and investigate assets of public sector employees but it seemed to operate in name only as to date there had been no announcements of investigations in progress.
Strengthening business groups has also not been adequately focused on by the region, Clarke lamented. He noted that in the aftermath of 9/11 regional heads had rushed to cobble together an emergency response to tackle the tourism crisis. This response was needed but there has been no comparable effort for manufacturers. "There is not a country in the region, with perhaps the exception of Trinidad, where manufacturing is not almost in collapse. The reasons for this are well known I may be wrong but I cannot remember any united effort by our Caribbean leaders to get together to promote manufacturing", he argued.
President Jagdeo did not concur with the position that Clarke took on Haiti.
Jagdeo said that he could not agree with the assertion that Haiti's problems are unsolvable. He said too that if that country's problems cannot be solved then the other nations in Caricom would have problems as a result. "We have to be involved. We can't afford to give up. That is why Caricom will remain engaged," Jagdeo said. Last month, a Caricom team visited the country with a view to gaining an understanding of the problems that President Jean-Bertrand Aristide is faced with.
Stabroek News: Monday, February 16th 2004