West Indian Born Ambassadors in US Diplomatic Corp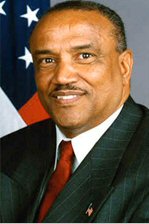 Roland W. Bullen
Ambassador Bullen was born in Grenada, West Indies
BIOGRAPHY
Roland Bullen Ambassador, Guyana Term of Appointment: 07/29/2003 to present
Ambassador Roland W. Bullen, a career member of the Foreign Service with the rank of Minister-Counselor, was sworn in on July 29, 2003. Prior to his appointment, Ambassador Bullen served as Deputy Executive Director in the Bureau of Western Hemisphere Affairs from September 2001 to July 2003. He has served in diplomatic missions in the Caribbean, Central and South America, Africa, as well as in Washington, DC. He was assigned as Deputy Chief of Mission at the American Embassy in Bridgetown, Barbados from 1998 to 2001. In Bridgetown, he was Charge d'Affaires for more than two years. During this period, he successfully managed a series of trade, banking, money laundering, immigration and tax regulatory issues, and concluded Mutual Legal Assistance Treaties (MLATs) with all seven countries covered by the U.S. Embassy in Bridgetown.
Ambassador Bullen was born in Grenada, West Indies and came to the United States in 1966. He received a Bachelor of Arts degree from San Diego State University in 1970, majoring in public administration. He did post graduate studies at the United States International University in San Diego receiving a Masters of Arts degree in social sciences in 1973.
Ambassador Bullen entered the Foreign Service in 1977 and has served in Colombia, the Dominican Republic, Liberia, Belize, Costa Rica and Venezuela. From 1994 to 1996, he served in Washington, DC as a Senior Inspector in the Office of the State Department's Inspector General. Ambassador Bullen is a recipient of the Department of State Superior and Meritorious Honor Awards. Before joining the State Department, Ambassador Bullen worked for the City of San Diego.
---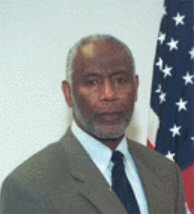 Roy L. Austin
Ambassador Austin was born in Kingstown, St. Vincent and the Grenadines
BIOGRAPHY
Roy L. Austin Ambassador, Trinidad and Tobago Term of Appointment: 10/19/2001 to present
Roy L. Austin was sworn in on October 19, 2001, as United States Ambassador Extraordinary and Plenipotentiary to the Republic of Trinidad and Tobago.
Prior to his August 31, 2001 nomination, Ambassador Austin was Associate Professor of Sociology, Justice, and African American Studies at Pennsylvania State University. Between 1994-98, he served as Director of the Crime, Law, and Justice Program at Penn State, and in July 2001 became Director of the Africana Research Center. Among his publications are works on the Caribbean, including Trinidad and Tobago.
Ambassador Austin was born in Kingstown, St. Vincent and the Grenadines. He held positions there as customs officer, secondary school teacher, carnival bandleader, and captain of the national soccer team, and was selected for trials for the national cricket squad.
He moved to the United States in 1964 to attend Yale University, where he was a classmate of President George W. Bush. He graduated with a B.A. in sociology, and then earned an M.A. (1970) and Ph.D. (1973) in sociology from the University of Washington. Subsequently, Ambassador Austin became a U.S. citizen.
Source: US State Dept.
This article was posted on eCaroh.com on 3/20/04.