PROFILE: NORMAN BEATON, MUSICIAN, TEACHER, ACTOR
Source: New Victoria Village Newsletter, November 2006 - Vol 1, Issue 1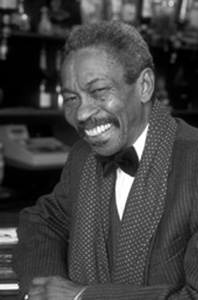 Norman Lugard Beaton was born in Georgetown Guyana, to William Beaton, Post Master at Victoria Village, East Coast Demerara, and Ada. Beaton. He attended Queen's College and later the Government Teachers' Training College. Norman Beaton taught and played with the band The Four Bees before leaving Guyana for London in 1960. He landed a job as a teacher in Liverpool, becoming the first black teacher to be employed by the Liverpool Education Authority.
Norman Beaton was one of those unique actors who managed to scale classical roles, yet excel in light comedies. From 1989-94 he enjoyed nationwide popularity on British television with the highly successful situation comedy series Desmond's. This show was once described as an African-Caribbean equivalent of America's The Cosby Show. Beaton gave a brilliant performance as the manic owner of a South London barbershop.
Norman Beatonís reputation as an actor grew steadily, progressing from regional theater to leading roles at the Old Vic, The National Theatre (where he played Angelo in a black- cast version of Shakespeare's Measure for Measure in 1981) and The Royal Court Theatre. Apart from Shakespeare, his theater roles also encompassed Pinter, Beckett, Gilbert and Sullivan, Brecht, Moliere, and pantomime. In 1974 he established the Black Theatre of Brixton, which was instrumental in developing black theater in Britain. During this period he also became one of Britain's leading television actors, and among his biggest successes were dramatic roles in Afternoon Dancing (1974); Black Christmas (1977); Empire Road (1978-79), Britain's first all-black soap opera; Play for Today's "Easy Money" (1981); Nice (1984); Dead Head ( 1986); Playing Away (1986); Big George is Dead (1987); When Love Dies (1990); and Little Napoleons (1993). He was also interviewed in the documentary Black and White in Colour (1992), a history of black people in British television.
Norman Beaton was the star of British television's first black situation comedy series, The Fosters, which ran for two series in 1976-77. But the actor will be best remembered for Desmond's. As a result of its popularity, African-American television star Bill Cosby invited him in 1991 to make a couple of guest appearances in The Cosby Show. Beaton readily accepted a role as a cricket-loving doctor, and Cosby was so taken by the actor that he wore Beaton's gift of a Desmond's baseball cap in the show. Shortly after returning to Guyana in 1994 he died at the age of 60.