PAN ON THE RUN
Order of T&T for Tony Williams, Bertie Marshall, Brian Copeland
Sunday, August 31st 2008 Trinidad Sunday Express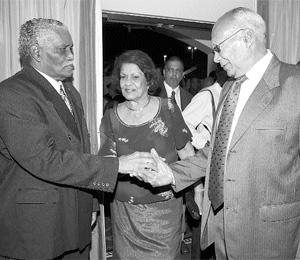 'genius': President George Maxwell Richards, right, greets Anthony Williams on Friday evening at the Courtyard Marriott, Port of Spain. Looking on is the President's wife, Dr Jean Richards. -Photo: Gary Cardinez
At 77 years old, pan genius Anthony Williams created history once again, when on Friday he became the first person to be inducted into the Steelband Hall of Fame. Tonight he will receive the country's newest, highest award-the Order of the Republic of Trinidad and Tobago-at the National Awards ceremony at President's House, St Ann's. See Page 5.
Addressing the audience at the Courtyard Marriott on Friday evening, President George Maxwell Richards, described Williams' induction as a "a welcome development", saying that "it could not happen to a nicer person".
"It is a well deserved award for the years of toiling in the vineyard," said Richards.
Pan Trinbago's secretary, Richard Forteau, said inauguration of the Steelband Hall of Fame was long overdue and marked the culmination of a month-long celebration of Williams.
"But it's better late than never. We give very little recognition to our pan icons and contributors and this must change," said Forteau.
Pan Trinbago president Patrick Arnold praised Williams, saying: "While the time is opportune for the Hall of Fame, this was something the organisation planned years ago.
"The Hall of Fame was to be incorporated into the building we designed to be constructed at Invaders Bay, Port of Spain, but that never materialised. It will now be housed at the new headquarters in Trincity.
"Anthony Williams should be a millionaire today, his inventions-the fourth and fifth pans that are now standardised - are sold all over the world. Yet he receives nothing. Those are his inventions, there must be royalties somewhere.
"He is a genius, he is the greatest all-round panman in terms of developing the instrument, arranging the music and leading a band (Pan Am North Stars).
"Anthony Williams is the man who invented the 'spider web pan'. He is the man who gave steelbands mobility by putting pan racks on wheels and, most importantly, on the face of a pan he placed the Circle of Fifths."
"The Steelband Hall of Fame must provide space for the appreciation of the work done by practitioners of the art-tuners, arrangers, steelbands, administrators and other contributors."
"But people in Trinidad do not recognise the contributions of pan men. In Trinidad; everybody is a star as soon as you achieve something, you are given loads of rewards. Not so for steelbands - Exodus went to New York City at Madison Square Garden, created history by winning the World Steelband Music Festival-not a note from anyone.
"Skiffle Bunch won the World Steelband Music Festival-nothing. Isn't Boogsie a star? Why is he not sponsored and making advertisement for a big company?
"Machel, Shurwayne, Bunji, Destra are all seen in ads. Where is Robbie Greenidge or Ken Professor Philmore? Pan only gets lip service," said Arnold.