Holman Continues to Inspire
Michael Mondezie
Sunday, April 2nd 2006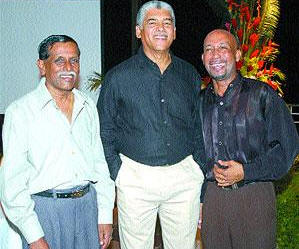 Steelpan living legends, from left,
Dr Jit Samaroo, Ray Holman and Ken "Professor" Philmore
Veteran steelpan composer Ray Holman hopes his latest CD compilation inspires more young composers to create music for the national instrument. Holman says the album, aptly titled Changing Times, is the fruit of many a sleepless night and is dedicated to the true composer.
"I hope this project will inspire more people to compose. It's not an easy road because it's more difficult to create a song, have it recorded and then rehearsed as opposed to just taking a popular calypso and arranging it but the satisfaction you get out of it is really worth it and I believe as a composer its the way the go," he said at the album's launch at Hilton Trinidad on Wednesday.
Holman, holder of the Humming Bird Silver Medal of Merit, was the first composer to really experience that satisfaction when his original composition "Pan on the Move" received national acclaim in the 1972 Panorama competition.
He was, however, heavily criticised by the calypso fraternity for the bold move that essentially set the pace for Len "Boogsie" Sharpe, Dr Jit Samaroo, and several other top class composers of today.
"Up to that time in 1972 they played only calypso so when Starlift came with our own composition some people became insecure. But the real outcry came when they heard the song because they did not think we could pull it off and when we won the preliminary round they said we were 'taking bread out of their mouths," he said.
He said calypsonians felt threatened by his work because they were not really interested in the development of the instrument but instead were seeking their own interest.
"They were concerned about securing their dominance and I was about liberating the pan which was totally dependent and still is to an extent but happily so many composers came after me," he said.
Changing Time is collaboration between, Holman, YARA Trinidad Limited and UWI Festival Steel Ensemble.
The six-track double CD which includes an enhanced data disc featuring the music scores, composer profiles as well as scorer and editor notes, was conceptualised by YARA, composed and scored by Holman and Dr Jeannine Remy and executed by the university ensemble.
"Ray is the king of orchestration and sound in T&T," Dr Remy said during her address at the launch.
Remy said she contributed several hours to the project because she recognised the importance of the project from an educational standpoint.
"I know many universities in the US will be using the CD and the scores for their classes so I felt it was important to ensure they were done accurately," she said.
Several of those US music students will have an opportunity to witness live performances from the ace composer this month as he is scheduled to visit Brigham Young University in Salt Lake City, Utah on April 7, the University of Iowa on April 13 and the University of Arizona on the April 23.
Holman then rounds off the tour with a joint performance with Liam Teague and Cliff Alexis at the University of California.
At Panorama 2006 Holman's PCS Starlift placed third in the Conventional large band's category playing Derek Seales' "If We Really Want".
He said he still had mixed feelings about Pan Trinbago's decision to allow old songs to be played at Panorama finals.
"Carnival music should be new music, this year most bands played new music The old music is fine because we will never have great writers like Kitchener, Merchant and Ras Shorty I again but they should only serve to inspire people to write new music," he concluded.
Source: Trinidad Express