THE SOUND OF STEEL IN THAILAND
By: Onpapa Wantaya in Thailand
Supported by a grant from the US Embassy in Thailand, Guyanese writer, journalist, and retired United Nations Staff member, Derrick Jeffrey discussed the history and development of Guyanese Steelband in a series of lectures that highlighted the contribution of Jazz and Steelband music as part of Black History Month Celebration in the Kingdom of Thailand.
Making his presentation in several Thai universities during the month of February, Mr. Jeffrey addressed hundreds of students, academics, and musicians on African American contribution in the shaping of America's art form - Jazz and its proliferation throughout the world. The highlight of Mr. Jeffrey's presentation was his articulation of the history and development of Steelband, its arrival in the United States, and its contribution to the arts in the United States from a Guyanese perspective.
Mr. Jeffrey, a former General-Secretary of the Guyana National Steelband Association and a winner of the Dr. Cheddi Jagan Medal for Literature (Stand Pipe 1970) held the audience as he recalled the development of the Steelbands in Guyana, its struggle for acceptance, and his knowledge of the construction and tuning of the various instruments that constitute a Steelband. It was the first time most Thais have ever seen or heard about Steelband and were fascinated by the presence of a fully functional Tenor Pan, which Mr. Jeffrey brought. Both music professors and students alike were astonished when audio clips from Guyana Invaders and Silvertones were played along with video excerpts from the World Steelband Festival 2000 held in Trinidad & Tobago.
Mahidol University in Bangkok Thailand, which has recently constructed a US five million-dollar faculty of music has indicated its interest in establishing a Steelband within its faculty of music and has recently imported a First Pan from Trinidad. However, one of the Thai music professors has expressed his desire to visit Guyana and the Caribbean sometime next year to discuss and learn more about Caribbean music and possibly set up a student exchange program between Guyana, the Caribbean, and Thailand.

Mr. Jeffrey in red shirt looks on as students examine a Tenor Pan

Mr. Jeffrey addresses music students and teachers at Chang Mai University

Students examining a Tenor Pan
---
PASSION FOR PAN - EVERYWHERE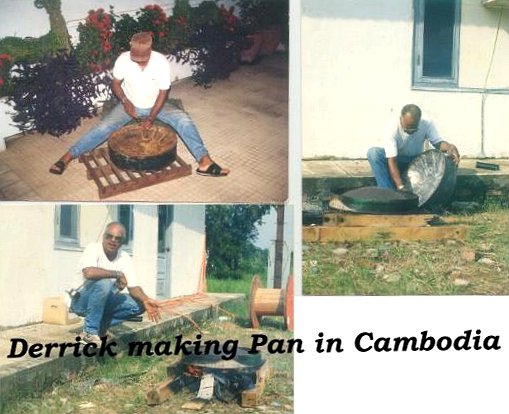 Derrick Jeffrey has a passion for pan. In 1969, twenty-two years after the Red Army Steel band from Trinidad and Tobago came to Guyana (then British Guiana), Derrick started his brave crusade for pan. He has taken it to South East Asia in 2003.
In his capacity as General Secretary of the Guyana National Steel Band Association, Derrick traveled to Trinidad and Tobago in 1969, to discuss with the Trinidad Steel Band Association an upcoming Guyana Steelband Conference to be hosted by and in Guyana. The T & T Association not surprisingly, was indignant at the temerity of Guyana wanting to host an International Conference in the face of T & T's invention of pan.
As is his wont to do, he argued his position, on Trinidad television, with the T&T pan leaders, shared a vision and expressed some fears about how pan would be represented in the future. Calypsonians Merchant and Black Stalin later recorded similar fears. Despite the mixed reputation of pan men of that era, Derrick left T&T unscathed and with a measure of success.
In the same T&T television interview hosted by Ed Fung, a Guyanese TV journalist, Derrick articulated a vision for pan: put pan in schools as an academic subject. Then on radio he played selections arranged by Roy Geddes and performed by the leading Guyanese steel orchestra Demtoco Silvertones. He invited his audience to compare the Guyanese bands with the Trini bands. There was acknowledgment of the high quality of panmanship and the well-respected Trini maestro Anthony Prospect called in to volunteer to adjudicate performances at the planned Guyana conference.
Derrick's passion for pan over the next thirty was somewhat controlled. He has lived a richly varied life that took him from Guyana to the USA to Cambodia and now to Thailand. To ease the pains of a "wounded Cambodian society mending itself", he introduced pan at the dawn of the new millennium. In February 2003 he looked at, and listened to, a video of the 2000 World Steel Festival and 21st century pan enthralled him: Click here: Steel Pan Corner
Watch out Thailand: there is pan in your future. Derrick Jeffery is imbued with plenty of passion for pan and he lives in your land.