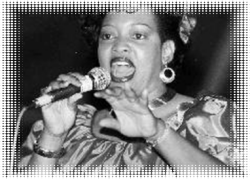 OPHELIA MARIE
COMMONWEALTH OF DOMINICA RECORDING ARTIST
OPHELIA, of Dominican nationality was born in Curacao. It is said that she was born singing, but it was in 1978 that she released her first album at which time she left her position of French teacher to devote herself to her special talent.
OPHELIA is a cosmopolitan woman, a child of the Caribbean who speaks English, French, Creole, Dutch and Papiamento. In recognition of her great contribution to Caribbean music, in February of 1981, she received the MARACAS D'OR or Golden Maracas award in Paris France. Manu Dibangu and Miriam Makeba were also recipients of this award. OPHELIA is also the recipient of the Golden DRUM award, the prominent women's award, the Inter-Caribbean Music Trophy. She was also a nominee for the Caribbean Music awards in New York in the category of best female vocals.
To date, OPHELIA has recorded 10 albums including one LIVE at the prestigious Theatre de la Renaissance in PARIS. It was the first live album of a Caribbean female artist. In 1992, OPHELIA released her first Video album entitled "DOMINICA SWEET."
OPHELIA's records had great success but, it is on stage that she excels. She sang on many occasions to crowds exceeding 10,000. Her stage presence, class and magnetism are such that she has established an easy relationship with audiences not only in the Caribbean but also as far as PARIS, LONDON and the French RIVIERA.