WASHINGTON AREA MEDIA LEGEND VON MARTIN PREPARES TO
EDUCATE, ENTERTAIN, AND ENLIGHTEN
ALL THAT IS CARIBBEAN WITH HIS 18th ANNUAL PRODUCTION OF
THE "CARIBBEANA COMEDY FESTIVAL"!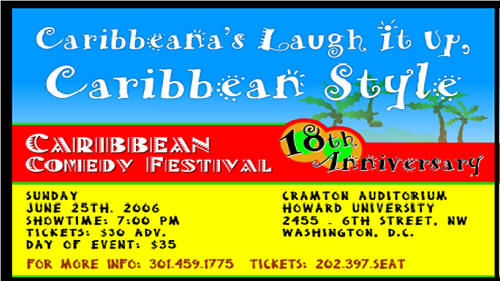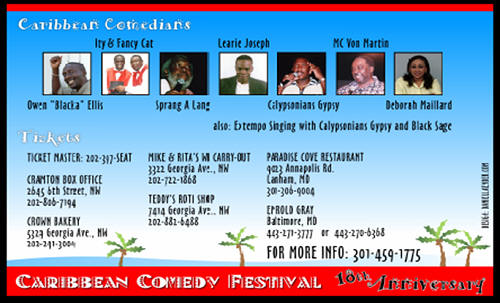 WASHINGTON, D.C. –"Laughter brings the people together", stated on air by legendary Von Martin, radio personality and producer of a 30 year and running radio program entitled "Caribbeana" on WPFW 89.3 FM (tune in Saturday evenings from 7:00 PM to 10:00 PM). Some say Caribbeana's Washingtonian comedy festival is similar to B.E.T. Comic View with a hint of Apollo's audience, except when the comedienne belts out his or her punch line you'll hear the sweet sound of the Caribbean islands. Ideologies covered by the comediennes who hit the stage range from what some consider scandalous actions of a nation's president to how people rear their children or survive a relationship.
On Sunday, June 25th at 7:00 PM in Cramton Auditorium of Howard University, Von Martin will cap off the weekend of DC Caribbean carnival events with this year's "Caribbeana's Laugh It Up" comedy festival. This year he brings to the stage an action packed, sidesplitting, and entertaining cast of Caribbean artistes such as: Owen "Blacka" Ellis (Jamaica), Ity & Fancy Cat (Jamaica), Sprang A Lang (Trinidad & Tobago), Learie Joseph (Trinidad & Tobago), Deborah Maillard (Trinidad & Tobago), and special guest Calypsonian singers Gypsy and Black Sage, whom will be giving a special extempo performance, an melodious impromptu form of singing, in tribute to a former cast member, "Big B", who passed in 2005.
Martin explains, "Comedy is universal and understood by all cultures. It transcends our lives as we live and cope with life situations". As producer, journalist, the only English radio broadcaster for the Organization of American States and even to some, musical and socio-economic ambassador for Caribbean life, Martin has volunteered on the airwaves of WPFW since 1977.
Von was awarded the Mayor's Arts Award at the 21st annual celebration for his humanitarian work through the "Caribbeana" radio program, which is his vehicle to keep the Caribbean population of the D.C. Metro area and other publics in tune with what the history of the Caribbean has been and what the present status is. Through the show "Caribbeana", Martin managed to produce the, first of many to come, comedy festivals in 1988. Martin says, "I aim to hold true to my shows theme, which is to educate, entertain, and enlighten all that is Caribbean."
After all it's not just about laughter, it's about giving voice to a fascinating yet sometimes misunderstood tradition. The comedy festival welcomes all who are willing and able to take on a barrel of laughs, while learning something new and different about the Caribbean culture.
Showtime is 7:00 PM at Cramton Auditorium, Howard University, 2465 6th Street, NW, Washington, DC. For general information or tickets contact Caribbeana Communications International, LLC main office at 301-459-1775; Development Manager, Vonetta B. Martin at 301-741-8523; or Cramton Auditorium at 202-806-7194.