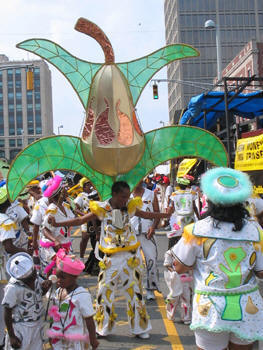 15th Annual Cambridge Carnival - Caribbean-Style Festival in Kendall Square, Cambridge
The 15th Annual Cambridge Carnival International will take place in Kendall Square, Cambridge, Massachusetts on Sunday, August 26, 2007 from 12 noon to 7pm and over 75,000 people are expected to attend this free annual festival. The parade route has been expanded and will span 1.5 miles. The parade will begin at 1pm and starts near the Charles River at River and Blackstone Streets, passes through Central Square on Massachusetts Avenue, continues up Main Street and ends in Kendall Square in Cambridge.
The festival site is located in Kendall Square on Main Street between Vassar Street and Broadway, and on either side of Ames Street. Festivities in Kendall Square start at 12 noon and end at 7pm. It includes live music stages, ethnic foods, exotic arts and crafts, steel drums, dancing, and free interactive activities for children. The best way to get there is to take the MBTA Red line to Central Square or Kendall Square.
This year's festival features seven zones: two live music zones, a KidsFest zone, 4 DJ zones. Artists include Zili Roots, Hot 8 Brass Band, Branches Steel band, and more. 2007 sponsors include Comcast, Wainwright Bank, WERS, and the City of Cambridge.
About Cambridge Carnival
The Cambridge Carnival has come a long way since 1992 from a small street fair at University Park, to now one of the most spectacular events in the Greater Boston area. Today, Cambridge Carnival is one of the largest outdoor multicultural festivals in New England. After twelve years of growth, Cambridge Carnival, which takes place in August every year, outgrew its Central Square location and now finds a new home in Kendall Square.
The event is organized by a non-profit volunteer community organization, is the largest festival in the City of Cambridge, and attracts more than 50,000 people. The annual Cambridge Carnival International festival uses the Trinidad and Mardi Gras model to bring together Cambridge's diverse community for a spectacular annual costume parade and celebration.
The events is free and open to the public and can be accessed via public transportation via the red line. Take MBTA stop to Central Square for the parade and MBTA stop Kendall Square for the festival site. For vendor, sponsor and general information, call 617-492-2518