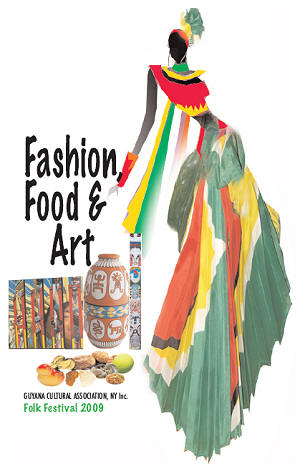 Guyana Folk Festival 2009
Theme of Folk Festival
"Fashion, Food & Art"
June 25, 2009
The Guyana Cultural Association of New York announces its 2009 annual Folk Festival Awards. The ceremony will take place in New York City on September 2, 2009. Four honorees with contributions to the development and celebration of Guyanese Fashion, Food and Art will receive Awards. This year we recognize the altruism and achievements of individuals and the philanthropy of a business entity.

Magda Lois Muriel Pollard is the recipient of The GCA Wordsworth McAndrew Lifetime Achievement Award. Donna Ramsammy-James, former Guyana President Janet Jagan and Western Union Company receive The Guyana Cultural Association Award.

The honorees were selected from nominations by the Guyanese Diaspora and have demonstrated by their individual or entity's action a sense of purpose in promoting Guyanese creativity and excellence. A committee evaluated each nomination considering relevant aspects of the Guyana Cultural Association's published selection criteria.

Ms. Pollard has had an illustrious career as an educator, author and administrator. After graduation from university she spent a substantial part of her career as a lecturer and the Principal of the Carnegie School of Home Economics in Guyana. Attaining leadership positions in Guyana, across the Caribbean and in the United Nations permitted her to bring new insights to "strengthening relations between governments and non-governmental organizations." Her dedication and exemplary contribution in "the movement for women's empowerment" have led to better circumstances for the whole communities in which she worked.
Mrs. Ramsammy-James as a choreographer, a designer, and international creative consultant "celebrates and represents, the rich diversity of the Caribbean." In places as diverse as Guyana, Montserrat, and Kenya she pursued her passions and displayed leadership: lead female dancer and choreographer in the Guyana National Dance Theatre Company and co-founded the National Dance Theatre Company of Montserrat. In Kenya, Ms. Ramsammy-James expanded her designing talent by melding cultural sensibilities. Her designer trademark is a distinctive fusion of African, Caribbean, Indian and Latin American influences. These features reflect the creativity and pride of heritage.

Former President Janet Jagan was responsible for converting Castellani House into the National Art Gallery. It provided an appropriate location to store the growing national collection that had been building over several decades. "Today, that venue is an active site with regular rotating exhibitions, film festivals, and other cultural events." Ms Jagan's leadership has led to the establishment of "a cultural oasis--encouraging dialogue among painters, sculptors, writers, musicians, and the wider community, including school children."

Western Union's philanthropic efforts include "supporting cultural inclusion". The company recognizes "the importance of helping individuals and families build strong communities, in which all members can contribute their distinctive talents and feel at home." Guyana Folk Festival has witnessed Western Union demonstrate its corporate citizenship. In our experience it has been true and consistent to its value statement.
Attendance at the Award Ceremony on September 2, 2009 at the Rotunda of the Brooklyn Borough Hall, New York is by invitation. All of the Awardees, or their designees will be honored guests. Details about 2009 Folk Festival events are available on the GCA website www.guyfolkfest.org.
Ronald H. Lammy,
Co-Chair, Guyana Cultural Association Awards Committee