Ken Corsbie To Feature At Guyana Nite
November 3, 2004
Hurricane Ivan Orlando Fundraiser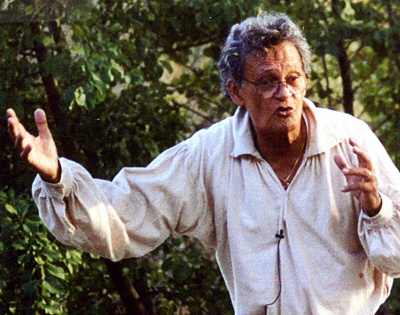 Guyana's number one stand-up comedian and storyteller Ken Corsbie will be in Orlando for "Guyana Night" - A Celebration of Guyanese Comedy, Culture and Cuisine - at Russell's Restaurant, 5370 West Colonial Drive, on Wednesday, November 3, 2004, at 7pm to raise funds for the hurricane relief efforts organized by the Conference of Caribbean Organizations of Central Florida.
Several Guyanese artistes in Central Florida including calypsonian Slingshot, Qyneares - Mystical Queen of Kulture and Alan Khan along with Winston Duggin from Miami have donated their talent.
Also coming to Orlando for this Celebration of Guyana is leading Guyanese artist Tony Phillips who currently lives in Australia. He will mount an exhibition of his works including Guyanese homes together with his paintings of orchids.
Tony has also donated a painting which will be raffled that night as part of the fund-raising effort. It will be part of a monster raffle of Guyanese artists CDs:
Nesbit Chhangur
Ken Corsbie
Winston Duggin
IS WE TING
Hugh Sam
Slingshot
A limited number of the above items, along with Bernard Heydorn's popular novels "Walk Good Guyana Boy" and "Carnival Girl" will be on sale throughout the evening.
Guyana Nite is being produced by the Orlando Posse - Godfrey Chin, John "Slingshot' Drepaul, Chico Khan and Wesley Kirton.
This event is sponsored by the Caribbean Sun newspaper and Russell's Restaurant in association with a number of co-sponsors including the Alliance of Guyanese Expatriates (AGE), the Association of Concerned Guyanese (ACG) and Laparkan Shipping.
For more information, write Godchin1@aol.com.
Ken Corsbie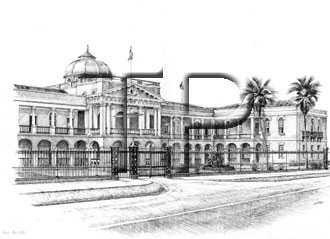 A Tony Phillips drawing of Guyana's Parliament Building
Listen to some clips from the artistes who are donating their services and the CDs which will be raffled (click on the symbol)


Tony Mangra - Feeling Good


D'Ivan - Don't Rock De Boat


Terry Gajraj - Bhaita Gana


Ninja - Styles


King Harry and King Fighter Sweet TnT


Tony Mangra - Loverman


Cheddi Nyack - Before You Love Me


Terry Gajraj - Bomba Trax (11 of 27 tracks shown)


Cliff Joseph - My Redeemer Lives


John "Slingshot" DrePaul - Home Sweet Home


John "Slingshot" DrePaul - Sweet Island Woman


John "Slingshot" DrePaul - Jump For Carnival