Book Talk with Caribbean Writers
NEW YORK, March 13, 2006
What are Caribbean writers writing about today? Who are their influences? Are they much different from American writers? Is their view of the world shaped by the cultures, landscape and history of the islands?
WBAI presents five exciting voices from the Caribbean: Elizabeth Nunez, Colin Channer, Maryse Conde, Esther Phillips and Christopher Farley, who will talk about their work and the challenges facing the Caribbean writer today in a panel discussion to be held on Monday, March 20, 2006, from 7 to 10pm, at the New York Society for Ethical Culture, 2 W 64th Street, New York.
A wine and cheese reception will follow the discussion. Books by the featured authors will be on sale.
Elizabeth Nunez was born in Trinidad. She is the author of six novels: Prospero's Daughter; Grace; Discretion; Bruised Hibiscus; Beyond the Limbo Silence; and When Rocks Dance. She is co-editor of the anthology Stories from Blue Latitudes: Caribbean Women Writers at Home and Abroad and executive producer of the CUNY TV series Black Writers in America, hosted by Ossie Davis and currently airing on most PBS stations across the country. She is chair of the PEN American Open Book Committee and hosts the WBAI program Sundays with Writers.
Colin Channer hails from Jamaica. He is the author of two novels, Waiting In Vain and Satisfy My Soul and the novella I'm Still Waiting. His most recent work is Passing Through, a collection of connected stories. He is the Artistic Director for Literature for the Houston International Festival, Founder and Artistic Director of the Calabash International Literary Festival Trust, and member of the Steering Committee for the World Festival of Black Arts, which will take place in Dakar in June 2007.
Christopher John Farley was born in Jamaica. Formerly a senior writer and the pop music critic for Time Magazine, he is now on the staff of the Wall Street Journal. Farley is the author of three books: Kingston by Starlight, My Favorite War, and Aaliyah: More than a Woman. His biography of Bob Marley will be published this year by Amistad.
Maryse Conde left Guadeloupe for Paris when she was sixteen to study at the Sorbonne. Since then she has lived in Paris, Africa, the Caribbean and in the United States. She is a recipient of La Grande Prix Literaire de la Femme, the Prix de L'Academie Francaise, the Prix Carbet de la Caraibe, a Guggenheim Fellow and Fulbright Fellow, among other awards. She is the author of eleven works of fiction, translated in several languages among them, Segu, Children of Segu, Tree of Life; I , Tituba, Black Witch of Salem; Crossing Mangrove, The Last of the African Kings, Windward Heights, and Tales of the Heart, her memoir.
Esther Phillips was born in Barbados where she continues to live and work. She heads the English Department at Barbados Community College. Her remarkable poem 'Just Riffing' sets the tone for the anthology Stories from Blue Latitudes: Caribbean Women Writers at Home and Abroad. Her work has appeared in various publications, including Caribanthology and The Whistling Bird: Women Writers of the Caribbean. She has won both the Alfred Boas Poetry Prize of the Academy of American Poets and the Frank Colleymore Literary Award. Cost: $10 at the door. For more information call the WBAI Arts Department, 212-209-2840.
Author Activist Academic
By Cedriann J Martin
Trinidad Express
Monday, March 6th 2006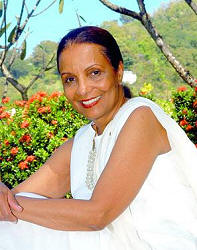 Novelist and English Professor, Elizabeth Nunez. Photo: JERMAINE CRUICKSHANK
Elizabeth Nunez sums up her life with a snappy one-liner.
"I read books, I write books, I write about books," she says, sinking white linen into her sister's chocolate leather couch.
"She's also an administrator," the younger Nunez (law school lecturer, Karen Tesheira) chimes in, throwing off the line's rhythm. Nunez is a Distinguished Professor of English at the City University of New York's Medgar Evers College. So yes, there is some faculty management in the mix. After more than 35 years of curriculum design and development at CUNY, however, the Trinidad-born academic now spends less time teaching and more writing. And she doesn't just churn out the scholarly articles that come with tertiary territory. Nunez is a novelist (six times over) as well as an activist for authors.
She's right. Literature is her life.
Nunez came to T&T together with Jennifer Sparrow for the University of the West Indies' 25th Anniversary Conference on West Indian Literature. ("Not for carnival," she clarifies.) The pair co-edited the recently-published Stories from Blue Latitudes, an anthology of Caribbean women writers. Also hot off the press is her novel, Prospero's Daughter, which was released by Ballantine Books last Wednesday. The story takes up where Shakespeare's The Tempest left off. Then turns things around.
Shakespeare's exiled Duke (Prospero) spent a dozen years on an enchanted island where, among other things, he raised his daughter (Miranda) and enslaved the deformed native they found there (Caliban). Nunez's spin: make Shakespeare's brave new world Chacachacre on the eve of independence. Prospero is Peter, an exiled British doctor. His daughter is dubbed Virginia and the Caribbean orphan is called Carlos. Now for the twist: Carlos and Virginia fall in love. An outraged Prospero proclaims it rape and notifies the authorities. And so the doors for an exploration of class and creed in colonial Trinidad are swung wide open. The novel begins with a written tip off to the investigator from Ariana, the cook (a la Ariel, the fairy.)
I tell you he love she and she love him back. They love one another. Bad. He never rape she. Prospero lie.
Later in the chapter Nunez switches tone, adopting the voice of a fifth form history teacher during a weighty exposition.
The French had come in 1777 at the invitation of the king of Spain, who had neither the time nor the inclination to develop the island, one of the smallest of his "discoveries" in the New World.
Nunez strings stories about love's lessons together with those of colonialism; personal struggles are thrashed out alongside social challenges. But Nunez insists that her writing is for anybody, everybody. And though many of her main characters are from the Caribbean, she resists labelling herself Caribbean writer.
"I don't think writers are defined that way. They're defined by the work they do, the way they see the world, their use of language. I consider myself a Caribbean person and a writer. I happen to see the world through the lens of my Caribbean background. In all my books I write about the Caribbean I knew, not the one that exists today," she explains with Trini accent intact.
She's at pains to resist labels, largely, she explains, because it's one of the factors that works against all writers. Especially black ones. Nunez currently chairs the PEN American Open Book committee, an organisation that tries to turns pages in the publishing industry for the benefit of writers of colour. She also founded the 20-year-old National Black Writers Conference along with John Oliver Killensin. The premier conference of its type in the US has included the voices of the most notable black US writers and even a few from the Caribbean, including Walcott and Lamming. She also executive produced a Public Broadcasting Service (PBS) series, Black Writers in America, that is currently being aired.
Nunez intimately understands the issues that are raised in these spaces. In her own 20-year-long career as a novelist she had to struggle against the stereotype evoked by each book. For example, after her first novel, When Rocks Dance, the publishers expected more obeah exotica. Instead they got a largely autobiographical account of a Trini girl who takes up a scholarship in Wisconsin and find herself in the middle of the exploding civil rights movement.
Describing it as a struggle between writing and publishing, art and business, Nunez admits that she has endured many rejections over the past 20 years because of businessmen's ideas about what the market wants. She hasn't let it shake her idea of what's worth writing about, though.
"Terry Mc Millan (of Waiting to Exhale and How Stella Got Her Groove Back fame) was very good for African American writers but she also led publishers to type cast the rest. Publishers didn't publish books by black writers before. Why publish a book with black characters? Who would read them? Now bookstores in the US are filled with black books but it's all the same.
So it's a challenge for black writers who write for everybody and who write not just for entertainment, but also to prompt people to look at the world in a different way and shift people out of their comfort zone," she says.
Speaking of comfort zones, Nunez has finally found one. She is now published by Ballantine, a subsidiary of Random House. The company has re-issued all her novels. It's an unexpected and happy outcome, she admits. Nunez is the second of eleven children born to a family that prized academic and professional excellence. There are doctors, accountants, actuaries and attorneys in the ranks. She describes her journey to author, however, as something of a fluke.
"Growing up with a bright family I never thought I was one of the bright ones. The fact that I have a PhD today is a surprise. I thought I'd be married, raise a family and behave myself. I definitely didn't see myself as a professional. I did like to write and read but it was a secret life. To imagine that I could be one of those writers was very far-removed. My career wasn't planned. Though it all makes sense now, most of it really happened by accident..."