Ruel Johnson - His way in the world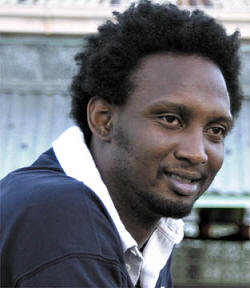 When the nominees for the 2002 Guyana Prize for Literature were announced last December, one name stood out from the others: Ruel Johnson's. He was, in the first place, nominated in two separate categories, best first collection of fiction and best first collection of poetry -in both cases, for unpublished manuscripts he submitted himself to the prize committee. And then there was the fact that, at 22, Johnson was an astonishingly young nominee for what are still the English-speaking Caribbean's only national literary awards.
"You can class me as the underdog," he remarked in an interview, but at the prize ceremony on February 9, 2003, Johnson was presented with the fiction prize, for a collection titled "Ariadne and Other Stories"; and "The Enormous Night", his collection of poems, was commended for its "great promise and real engagement with the craft of poetry". Johnson had already attracted a certain notoriety, at least in Georgetown's literary circles, where he was considered part enfant terrible, part devil's advocate. He has argued relentlessly -often in the correspondence columns of the daily press -that many of Guyana's most celebrated writers produce books "increasingly unrelated to Guyanese reality, because the writers have spent most of their lives either in Europe or North America". Johnson has been particularly vocal in his disapproval of the venerable Wilson Harris ("a vagrant's James Joyce . . . with one hundredth the talent"). In his acceptance speech at the Guyana Prize ceremony, he acknowledged the irony of his winning an award he had previously criticised for what he sees as a bias towards writers resident abroad. "My entry . . . was more protest than anything else," he says.
Johnson's proposal is for "a renewed and conscious provincialism, an engagement with our landscape and society and people that is not ashamed of itself"; " a Guyanese sensibility . . . that relates through intimacy, not one that dictates through ignorance." This manifesto rings with a youthful sincerity, but his stories and poems ambitiously attempt to embody the ideal. They dive head-on into the unresolved issues of contemporary Guyana -ethnicity, poverty, the imperative to make of this unruly mass of land and its people a nation -but they are also deeply concerned with the anxieties of any young man: the hormone-charged vicissitudes of desire, the challenge of making a way in the world, the struggle with enemies of promise. What's most striking is Johnson's genuine note of assurance: here is a distinctive voice, distinctly aware of its powers, and firmly decided to make the most of them.
His poems are scrupulously crafted, inventive, intelligent. They owe a happy debt to the work of Derek Walcott, whose poem "Hic Jacet" Johnson has adopted as a sort of credo. Like the younger Walcott, Johnson's self-appointed task is the transformation of the facts of his everyday world -"as painfully prosaic as a laundry list" -into fresh metaphors for the experience of his time and place, and ultimately into a new sensibility unafraid of life's truly big questions. Johnson's poem "Homage" makes this debt explicit: pulsing with echoes and allusions to Walcott's poetry, it reveals a portrait of the artist as a young man standing knowingly in a privileged tradition, and determined to extend that tradition through the strength of his own achievement.
With the controversial prize in his pocket, Johnson admits he's become "a sort of reluctant celebrity". Publicly, his next step is to find a publisher for his two manuscripts; privately, it is to continue labouring over two major works-in-progress: a long poem and a short novel. "Somebody needs to sit down and start working on the Great Guyanese Novel," he has said. It might as well be Ruel Johnson.
Nicholas Laughlin
---
"Verandahs, where the pages of the sea . . .",
and almost everything exfoliates
suddenly, exploding softly, as simply as
the night dissolves to dawn,
like this life dilating to another light
as easily as any heart ever opens
to its first true love
of poetry

In the middle of some arctic night
of my heart, I found another
life and named part of its tale my own,
staked a claim for my life's metaphor
on the illumination of a simple flame

So that, across this half-century,
Anna reincarnated becomes my own
Ilona; and on this different shore,
the Vigie hospital is the AISM
at Ocean View International Hotel
where, ambitious with the age, the
novice nurse in another life,
haunted by some dead cousin's ghost,
aspires to neurosurgery

Fifty-three years later, on this cleft
island of coast, GT, seen
through the charred skeleton
of Kissoon's Furniture City
or any of its boast of ruins on
Regent Street, became another Castries . . .

-Ruel Johnson, from "Homage"

Source: http://www.meppublishers.com/