Biographies
LEROY "BIG B" BIRCH presents his artistry in two distinct oral forms: Extempo calypso and Parang. He has been a finalist in the National Extempo Competition of Trinidad and Tobago for the past 12 years. In the last six, he has been one of the top three finalists and in 1998 he emerged as National Champion.
Big B, concerned about passing on the traditions, is very much involved in taking the artform of Extempo to schools in Trinidad and Tobago. Similarly, he is also active in Parang music at Christmas time. Big B is the Musical Director of the internationally known La Divina Pastora Parang Group.
---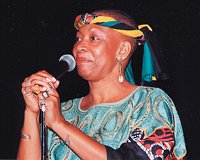 AMINA BLACKWOOD-MEEKS is a talker from Jamaica who lives in Kingston, and is widely acknowledged to be the leading female storyteller in the West Indies.
Caribbean Week has proclaimed her to be "One of the most dynamic and charismatic proponents of storytelling; a special and rare talent". With a background in theatre, education and political satire, Amina has been instrumental in the renaissance of the art form of traditional Caribbean storytelling. She has broad experience as a practitioner: writing and performing contemporary work for adults and children, organizing the first Caribbean storytelling festival in 1994 and teaching others the skills and ideas to continue the art form which is at the bed rock of Caribbean culture.
Kevin Baldeosingh of Trinidad, reviewing one of her recent appearances with her contemporaries, commented: " Her performance was outstanding for her smooth delivery, excellent timing and understated use of body language. In these professional qualities, only Paul Keens Douglas himself matched her that night ".
---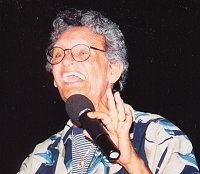 KEN CORSBIE sees himself as a Caribbean man. "While there were so many expectations, so many frustrations, working in the Caribbean, it's been worth it to me as a person." Listening to Ken Corsbie tell his story, one hears the present and sees the future Caribbean: many tributaries in confluence to one body. Ken was born in Guyana to a mother who was a Scotswoman from Tobago, and a father of a mixed Chinese, Venezuelan, Indian and African heritage. He now lives in the United States.
Not a stranger to the Caribbean Comedy Festival, Ken Corsbie's first storytelling stint in the United States was at the 1992 Corn Island Storytelling Festival in Kentucky.
---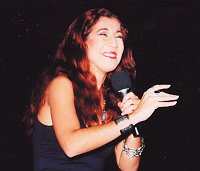 DONNA HADAD says she is "a Trini woman first and foremost" having been called the only Syrian comedienne in Trinidad and Tobago. She also wants to dismiss the myth that "all Syrians have a lot of money and own a clothing store - NO! NO! That's definitely not me."
For Donna, nothing is taboo, She writes her own material and dishes up the positives and negatives of life in a steady monologue on a wide range of topics: sex, politics, relationships, over-inflated egos, poverty, and money. Relatively new to the entertainment world Donna has an inimitable and sexy comedic style that she uses to surprise and thrill her audiences.
---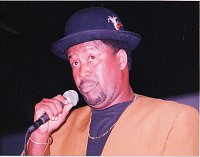 TOMMY JOSEPH, Master of Ceremony "I am not really the funny man as some people like to think. I am just Tommy Joseph, the M.C." That is the way he introduces himself.
Born in Plymouth, Tobago, in the West Indies, Tommy Joseph made his debut at the Raymond Reid Basketball Court in Port of Spain, Trinidad. It was there he cut his teeth in humor in a serious way and he has come a long way.
One of the Caribbean's foremost comedians and master of ceremonies, Tommy has been the Master in Command for well over a decade and especially at Carnival time. It is widely acknowledged that some people go to the Calypso tent just to see him perform. He is an entertainer who offers unusual and hilarious characterizations - imagine one of a man playing cricket. Tommy has a menu of comic delights which he serves with superb delivery and timing and much pride.
---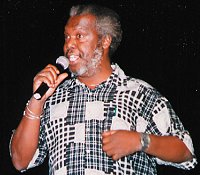 DENNIS "SPRANGALANG" HALL wanted to be a teacher because he did not like what they were teaching children in school in Trinidad and Tobago. He did not become a schoolteacher, but he holds class on stage from observing trends and people. In his inimitable style, Sprangalang makes serious statements using humor.
Sprangalang is a comedian, historian, producer and recently, singer/composer. Popular and approachable, people recognize and call on him to perform in all settings. His work has a mostly Trinidadian character and lies in it's extremely local nature. "By accident, or whatever, I recreate very near to the street" he says. That reality comes not just from acute perception, but from the ability to translate and communicate adroitly and humorously what he sees."
---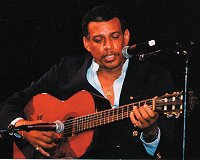 WILLARD "RELATOR" HARRIS is the consummate entertainer. He is a former Trinidad and Tobago Calypso monarch and is well known as a singer, composer, humorist, M C and impersonator. Relator is also an Extempo champion and considered one of the best calypsonians that can compose extemporaneously on any subject. The range of his repertoire is incomparable and he now has another moniker - Mr. Nostalgia - after becoming popular for his impersonations of old time calypsonians and famous international artists.
---
When WINSTON PETERS was a boy growing up in his seaside village of Mayaro, Trinidad, people called him "Gypsy" because he seemed hyperactive. His mind was always clicking, as it is said, and it's that quickness which he used to become a successful Calypsonian and Extempo king.
The art of Extempo singing takes knowledge of words, quick thinking and wit in order to create rhyming sentences to respond extemporaneously to an opponent. The tenor of the exchange is always in a good natured, jovial criticizing manner in which one vocalist is trying to put down the other.
Gypsy has earned a reputation as the man who has won the most Extempo crowns since the 1980s. He was unchallenged for three consecutive years in the National Extempo competition. On March 2, 2000, at the Queen's Park Savannah, Port of Spain, Trinidad, he won his seventh Extempo crown in a duel with Lady Africa. Gypsy also has the distinction of being crowned Calypso Monarch of Trinidad and Tobago.
---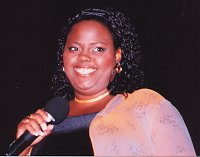 RACHAEL PRICE is one of the new cadre of young comediennes, now staking a claim in the formerly all-male Caribbean arena. Rachael says that she owes her self-confidence as a comedienne to her aunt and grandmother: "Everything my grandmother did was a show - she performed while putting out the Sunday dinner." Rachael generates energy from a responsive audience. Rachel is usually unrehearsed, she has few punch line jokes, but offers mostly hilarious commentary on everyday matters.
Rachael is proud of her full-body figure. "I'm the average Trini woman. Every Trini woman is confident, just look at them in the road, head high, shoulders thrown back, breast out, totally 100 percent Trini-woman - no European figure, no Anglo-Saxon face."
---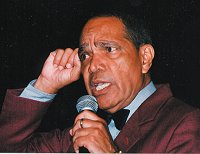 RAMDEEN "JOHN AGITATION" RAMJATTAN is the grandmaster of Caribbean comedy and he is part of Trini folklore. John tells about his career: "When I started, I reflected a certain culture, my accent was French-Creole and most of my language was patois. Now I portray the illiterate man in a developing society, how he sees the development and how he expresses himself." Double entendre is his one of his strong suits: "I try to keep it clean and if I'm to be suggestive, it' s cleverly put" A master teaches how....
Described as ageless, Agi as he is affectionately called, says his youngish looks are attributed to his mind. "I'm not too disturbed at anything, even in tragedy I look for comedy".
---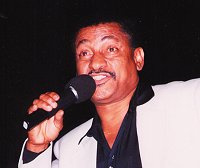 LUCIEN "SALUCHE" SMALL grew up in Victoria Park, Kingstown, the capital of the island of St. Vincent. He began doing standup comedy five years ago when he made his debut at the popular nightclub "The Attica." Although his is a relatively short career he stands equally with the better known. His appearance at the 12th Anniversary Comedy Festival was impressive.
Saluche has advice for aspiring comics and children: "Don't try to be anybody else. Don't try to be a Bill Cosby, Tommy Joseph, or Bill Trotman. Always use your own material." He encourages young people to get on stage and perform and not be intimidated by crowds nor to be concerned with money. To school age young people he says, "Stay in school. The root of education is bitter but the fruit is sweet."