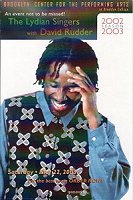 Brooklyn Center for the Performing Arts
presents
LYDIAN SINGERS
under the direction of Pat Bishop
in a very rare collaboration with
DAVID RUDDER
Saturday June 14, 2003 at 8 PM
Walt Whitman Theater, Brooklyn College
(one block from the junction of
Flatbush and Nostrand Avenues,
End of the No. 2 Line)
An event not to be missed, Trinidad's Lydian Singers make their first-ever New York City appearance! In a very rare collaboration, Pat Bishop's critically acclaimed chorale ensemble and Lydian Steel Orchestra will be joined onstage by King David Rudder in a performance that includes Negro spirituals, classical excerpts, Latin and Caribbean folk songs and traditional calypso. Highlighting the evening will be a performance of Rudder's latest carnival hit, Trini to de Bone.
Tickets $40 can be ordered by calling the box office at: 718 951 4500, Tuesday through Saturday 1p.m. to 6 p.m. or faxing requests to 718 951 4437.
Groups of twenty or more will get a discounted price.
For Group Sales call 718 951 4600 X 27
Tickets also available at:
Sugar Cane, Princess, Gloria's #3 and Culpeppers
This is an opportunity not to be missed. There is only one show up to this time. Do not be left out. Call and reserve your tickets!!!