About "The Silk Purse"
Memories of a Puerto Rican in New York
New Book tells of young girl's South Bronx childhood
As children, we are taught to let go; as adults, to hang on. When do we do which? TV producer Raquel Ortiz's first book The Silk Purse takes us into the life of a young Puerto Rican girl growing up in the Bronx and at the same time to an intimate portrayal of a Puerto Rican family and a close-knit Puerto Rican neighborhood. It is not enough that a good story be told, it must be told well. And Ortiz knows how to spin her true story into a beautiful tapestry of family, friendship, finding and losing love, and personal tragedies.
In the cramped and decaying South Bronx neighborhood, an ingenious and talented Puerto Rican girl found a sanctuary. In the Ortiz household itself, Raquel had the love of her mother, stepfather, and grandparents, her favorite grandaunt and her younger sister. In spite of the beginning signs of decay and devastation, the entire Puerto Rican neighborhood was like an extended family. Children went through one kitchen to another; each adult was an uncle or an aunt who would reprimand and tell on every prank or misbehavior.
The Silk Purse begins when Raquel is three years old and ends with a major transition in her life at age eighteen. Along the way, she learned to stand up for her young black friend, and to let go of her favorite Titi Maria, and her first love Alfonso. And perhaps most importantly, to let go of a vicious personal attack that would haunt her forever. We never forget for the memories will be with us forever; but we must learn to cherish the joy and accept the tragic and the bitter. This book will take you on a journey of self-acceptance and warm memories of a loving home.
About the Author
Raquel Ortiz is an award-winning producer, writer, and director. She has 35 years of experience in television and educational production within the public broadcast system and the media. She also owned and managed her own independent production company, Ortiz/Simon Productions, Inc., which specialized in the development and production of multicultural film and video projects; produced multimedia educational videos and TV and radio commercials; and has consulted for various media entities in the United States and Latin America. Her award-winning works include the Latino series La Plaza produced for WGBH-TV in Boston, the educational language video Caminos des Jaguar, and Mi Puerto Rico, a personal documentary journey exploring the complex relationship between Puerto Rico and the US for PBS.
[eCaroh]
The Silk Purse
by Raquel Ortiz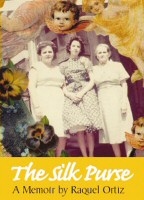 eCaroh Price: $21.95