Home Page
Free Newsletter
What's New
eCatalog
Audio Clips
Reviews
To Order
Payment Options
Shipping Info
Search
Profiles
About eCaroh
Things Caribbean
Calypso Soca Dance Party Melts Down MASS MoCA September 1
Get directions to MassMoca here
http://www.massmoca.org/directions/index.html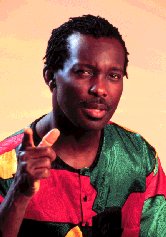 (North Adams, Mass.) Known for infectious danceable rhythms and sometimes scandalous lyrics, Caribbean music comes to MASS MoCA on Saturday, September 1, at 7:00 P.M. in a Hot, Hot, Hot Soca Dance Party with Arrow. The first Soca artist ever to be signed to a major record label, Arrow's 1983 hit single Hot, Hot, Hot was recorded in 12 different languages, made the charts in several countries and has become the international Soca anthem. Arrow will be accompanied by his Multi-National Force, an all-star cast of musicians from several different Caribbean and Central and South American nations. Together they move audiences from sedate to un-restrainable, whipping them into a frenzy with non-stop rhythms. Novice dancers or those needing a refresher course can learn on-site from a dance instructor arranged by Jacob's Pillow Dance Festival.
Calypso evolved in Trinidad out of a fusion of African and European music. In the late 18th century French planters arrived on the island adding elements of their pre-Lenten carnival traditions. The language became French but the style remained the African call-and-response with lively drumming. Calypso received a huge boost with the emancipation of the slaves in 1838 and quickly became associated with the Kalenda or stickfighting bands often featured in the same carnivals. Another boost came in the 1940s and '50s when record companies discovered the music and brought Calypsonian artists and music like Lord Kitchener, Mighty Sparrow, Lord Invader's Rum and Coca Cola, Mighty Terror's Women Police in England, and King Radio's Man Smart, Women Smarter to wider audiences. In the early '70s Lord Shorty developed a more up-tempo version dubbed Soca (SOul CAlypso). This new sound was more open and versatile making it easy to incorporate elements of other styles creating ragga-soca, chutney-soca with Indian influences, even combining it with jungle, lambada, and country and western.
Born on the Caribbean island of Montserrat, Alphonsus Cassell began composing Calypso songs as a youth. His classmates dubbed him 'Arrow' in honor of his stinging satirical verses about teachers and fellow classmates. He gave his first performance when he was ten and went on to win the island-wide junior calypso contest and later the title of Calypso King which he held for four years. By 16 he had developed an ostentatious, gyrating performance style reminiscent of his childhood influences James Brown and Elvis Presley. He has mastered many Afro Caribbean rhythms including Compa, Rara, Zouk, Merengue, Salsa, Rumba, and Dance Hall. Arrow continues to expand the boundaries of each style creating universally appealing hybrids and adding Latin, hip hop, reggae, and rock influences. His songs flavor television and movie soundtracks including Casual Sex, Weekend At Bernie's II, The Might Quinn, My Stepmother Is an Alien, Cutting Edge, Man From Africa, and Baywatch. He has shared the stage with Don Henley, Celine Dion, Joe Cocker and James Brown. He has shared the bill with Sting, Eric Clapton, Jimmy Buffett, Elton John and Paul McCartney.
MASS MoCA's Dance party series is co-sponsored by Old Saddleback Brewing Company and Holiday Inn Berkshires.
Tickets to the Calypso Soca Meltdown Dance Party are $12 for adults and $6 for kids. MASS MoCA members receive a 10% discount. Tickets are available through the MASS MoCA Box Office located off Marshall Street in North Adams from 10 am until 6 pm daily. Tickets can also be charged by phone by calling 413.662.2111 during Box Office hours or purchased on line at www.massmoca.org. Caribbean dinner and special drinks will be available before the party starting at 6:00 and throughout the evening.
MASS MoCA, the largest center for contemporary visual and performing arts in the United States, is located off Marshall Street in North Adams on a 13-acre campus of renovated 19th-century factory buildings.