Profiles of Caribbean Artistry
Soca Superstar Arrow Among Honourees In Antigua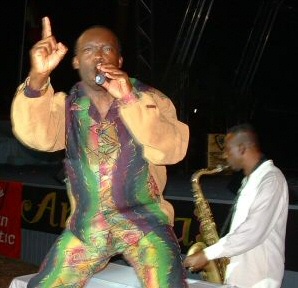 Arrow sets the crowd alight with 'Hot, Hot, Hot'
Story and photo by Norman 'Gus' Thomas
Friday, August 6, 2004
ST. JOHN'S, Antigua: The Mighty Arrow - his hot and jumpy, infectious music has not only made him a favourite of Caribbean people, but has taken his name to the four corners of the earth.
On Wednesday night, this Caribbean music icon was honoured by the Antigua Jaycees during their 43rd Caribbean Queen Show with the Caribbean Award for his outstanding contribution to the development of soca and calypso music in general, across the Caribbean.
Alphonsus "The Mighty Arrow" Cassell was born in Montserrat (the Emerald Isle of the Caribbean) and is known internationally as the "King of Soca'. Arrow began his career during his early days at school when his love for the Calypso art form became evident.
He became know internationally as the "Party Man" of the Caribbean when his hit song "Hot, Hot, Hot" placed him in overdrive as some four million copies of the song were recorded in twelve different languages. To date over 22 different versions of Hot, Hot, Hot, now exist.
In speaking with Newsline, the soca king said he loves music dearly, and revealed that he has done a lot of experimenting with his music, fusing Latin, hip-hop, reggae - the dance hall beat and some elements of rock. At one time he ventured to fuse soca with the popular Jamaican dance hall music and won himself critical acclaim from Jamaican audiences. He is the only soca artiste to have performed at Reggae Sunsplash in both Jamaica and London.
Arrow has over 33 music albums to his name and made history when he became the first soca artiste to have been awarded the prestigious Member of the British Empire (MBE) from Her Majesty, Queen Elizabeth II. Arrow's discography stretches from 'Leh De Music Play" in 1971 to "More Vintage, volume 1" in 2002.
Arrow thanked the Jaycees for their kind gesture noting that it was Antigua and outstanding Antiguan musicians like Clarence Onku Edwards of the internally famous Burning Flames that assisted him greatly on his journey to internal stardom.
"For this I am eternally grateful," he said, while bowing to the massive crowd before leading them into a musical frenzy with 'Hot' Hot, Hot' accompanied by the house band for the evening, Busy Signal.
Courtesy: caribbeannetnews.com