Home Page
Free Newsletter
What's New
eCatalog
Audio Clips
Reviews
To Order
Payment Options
Shipping Info
Search
Profiles
About eCaroh
Things Caribbean
eCaroh Caribbean Emporium and Ron Lammy, a Columbia University graduate, have partnered with Aaron Fox, Director, Center for Ethnomusicology at Columbia University to host the Guyfolkfest 2004 Symposium. Guyanese Word: Spoken, Written, Sung, and Drawn will be held at Columbia University's Morningside Heights campus in Manhattan.
The symposium will extend over two days. The opening session will start at 1:00 p.m. on Friday, September 3, 2004. Vibert Cambridge, Chair, Ohio University's Department of African American Studies and a co-sponsor, will make the introductory remarks.. After the formal opening ceremony, the symposium will move into a plenary session, a roundtable discussion of Guyana's literary heritage.
Several of Guyana's internationally recognized writers and Guyana Prize winners will participate in this session. Among those presenting are Cyril Dabydeen, Fred D'Aguiar, O. R. Dathorne, Michael Gilkes, Stanley Greaves, Peter Lutchmonen Kempadoo, Paloma Mohammed, Aubrey Bonnett and Gokarran Sukdeo. Juliet Emanuel of the Borough of Manhattan Community College/CUNY and National Public Radio commentator Kojo Nmambi are the moderators.
The second day of the symposium will start at 10:00 a.m. Saturday, September 4, 2004 and will feature concurrent panels, readings, audio-visual presentations, performances, and a closing concert. Ron Lammy of eCaroh.com will make the inaugural gift for the establishment of the West Indian Music Center at the Center for Ethnomusicology at Columbia University in New York City.
The symposium is one event on the Guyana Folk Festival 2004 Labor Day Weekend calendar. The "Wordsworth McAndrew Award" Dinner Dance takes place on Friday, September 3, 2004, in Brooklyn at the Rose Castle Grand Ballroom. A Family Fun Day of folk games and cultural presentations will be held Sunday, September 5, 2004, at the Old Boys and Girls High School Ground, Rutland Road (between Troy and Schenectady Avenues), Brooklyn, New York. Details for all events are published at http://www.guyfolkfest.org. Telephone enquiries can addressed to Claire Goring, Cultural Director, Guyana Folk Festival - 718.209.5207
---
By Ronald H. Lammy, eCaroh Caribbean Emporium,
July 16, 2004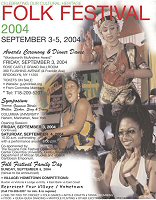 The Guyana Folk Festival announces its third annual Wordsworth McAndrew Award. In 2004, thirty-eight awards, representing the number of years of Guyana's independence, are presented to individuals who have made outstanding contributions to Guyana's cultural life. The awardees have shared their talents through broadcasting, cultural promotion, drama, music, painting, theatre, and writing. Many of the Awardees have produced work in the genre related to this year's Festival theme: Guyanese Words.
Among those whose works have been notable for decades are Edgar Mittelholzer, Jan Carew, Denis Williams and the Rogers brothers, Eddie and Bert. The accomplishments of all the awardees have mutuality with the spirit of the man for whom the award is named.
Wordsworth McAndrew is one of Guyana's leading folklorists, poets, and creative artists. Through his work as a radio broadcaster in Guyana during the 1960s and 1970s, he helped Guyanese recognize and feel proud of their mythological and folkloric heritage. His study and celebration of Guyanese language and culture is an inspiration to both the humble radio listener and to the university scholar. He used all media available to explain and promote Guyanese cultural characteristics. Wordsworth McAndrew "is a pioneer".
The 2004 Wordsworth McAndrew Awardees were selected from a list of one hundred and fifty persons nominated by Guyanese worldwide. The committee made its thoughtful selections from a combination of attributes defined by the following criteria: Originality, scope, impact / influence, integration, pioneering spirit, challenges and achievements. The Awards Ceremony and Dinner Dance is Friday, September 3, 2004 at 8 pm at the Rose Castle Grand Ballroom in Brooklyn, New York. Tickets are available by telephone at 718-209-5207 and online at http://guyfolkfest.org/awards_ceremony.htm
The 2004 Guyanese cultural heritage celebration begins with a symposium on
Guyanese Words: Written, Spoken, Sung and Drawn
at the Columbia University of New York campus in Manhattan. The opening session is from 12 noon to 4pm on Friday September 3, 2004. The symposium continues at the same location on Saturday, September 4, 2004 at 10 am culminating with a performance at 6pm. Guyana Folk Festival is the presenter of the symposium. It is co-sponsored by The Center for Ethnomusicology at Columbia University, through the auspices of eCaroh Caribbean Emporium, and Ohio University's Department of African American Studies.
On Sunday September 5, the Folk Festival Family Day will take place in Brooklyn and will feature folk games including one-tip two-tip cricket, arts and crafts, Guyanese cuisine, queh-queh dancing, tassa drumming, maypole plaiting and other exciting cultural presentations.
---
BOSTON, July 28/PRNewswire/ -- Color Circle Art Publishing, Inc. the primary source for the paintings of Paul Goodnight, today announced that two lithographs and a serigraph were now available for Internet sales through eCaroh.com. These Caribbean accented paintings are sold at the eCaroh Caribbean Emporium web site (www.eCaroh.com) and at its Boston location in the Jamaica Plain neighborhood.
On June 14, eCaroh.com opened its 'brick and mortar' doors prominently displaying Paul Goodnight's Musical Thunder. This limited edition, 50 color, serigraph depicts rows of Steelband players in shades of red and royal blue complementing Goodnight's signature black faces. Musical Thunder, The Rhythm and Red Snapper appear on eCaroh's Art web page as part of an expanded offering of "Things Caribbean".
"Music and Art are natural partners and we are pleased to join eCaroh in offering a sampling of our product line," said Color Circle's General Manager Bernice Robinson. Color Circle Art Publishing Inc. (www.colorcircle.com) a nine-year-old, Boston company specializes in publishing and distributing museum-quality fine art reproductions by legendary, established and emerging visual artists.
"This is an exciting new dimension for eCaroh. We are proud to be selected to offer Mr. Goodnight's work. Customers who buy Caribbean music and books or subscribe to the magazines we carry, have already discovered the ease and convenience of shopping at eCaroh.com" said Ron Lammy, CEO of eCaroh.com.
Paul Goodnight's professional career spans 30 years of total dedication to his art. His work is held in numerous private and corporate collections. Recent commissions include the design of a mural for the Orlando Airport and a painting for the Boys Choir of Harlem souvenir book for the year 2000 season. His works have appeared in television (including The Cosby Show, Seinfeld and ER) and film since 1984 and have been featured in national publications such as Architectural Digest, Essence, and People Magazine.
eCaroh
eCaroh Caribbean Emporium is a Caribbean-owned company, based in Boston, that produces, markets and distributes West Indian music and products. eCaroh.com is a leading Caribbean website with a collection of recognized brands, local and international partners and unique cultural content.