Home Page
Free Newsletter
What's New
eCatalog
Audio Clips
Reviews
To Order
Payment Options
Shipping Info
Search
Profiles
About eCaroh
Things Caribbean
Profiles of Caribbean Artistry
Storyteller/Dramatist KEN CORSBIE
Wins T &T Cacique's Caribbean Award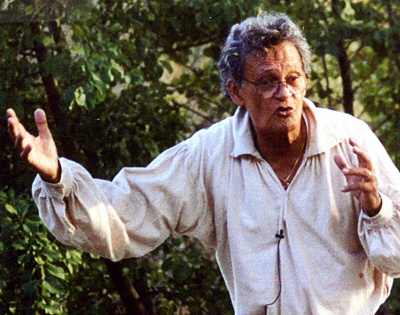 The National Drama Association of Trinidad and Tobago gave its special Caribbean Award to veteran theatre activist KEN CORSBIE at the Gala Cacique Awards Ceremony in Port of Spain's prestigious Queen's Hall on July 30th 2004.
The annual Cacique Awards Ceremony recognizes and honors outstanding personnel and productions, including directors, playwrights, designers, actors, technicians, dancers, musicians, comedies, dramas and musicals.
The NDATT Caribbean Award is presented to groups or individuals who have made an outstanding contribution to the development, integration and exploration of theatre in the region.
Ken Corsbie, known throughout the English speaking Caribbean as producer, director, performer and presenter in theatre, television and radio, has developed a substantial reputation as storyteller/raconteur throughout the Caribbean and North America. He now lives with his wife Elizabeth in Long Island, NY.
His outstanding credits include -
Over 200 performances of story, song and poetry up and down the West Indian islands
Guest teller and Workshop leader at Festivals, Universities, Libraries, Schools, Theatres and Night Clubs in the Caribbean, USA and Canada.
Designer/Director of theatre productions in Guyana, Bermuda, Barbados, Antigua, St.Lucia, Trinidad and Long Island New York.
Originator (one of several) and subsequently coordinator for the Theatre Information Exchange (TIE) based in Barbados.
Producer/Performer of thirty radio programmes on Caribbean Arts and Culture for the Caribbean News Agency (CANA).
Co-writer and on-camera presenter of thirteen video documentaries (Caribbean Eye) of Caribbean Arts and Culture titled Caribbean Eye for Banyan Studios Trinidad.
Director of Drama in Guyana's Cultural Department and Artistic Director of the Theatre Guild's Playhouse.
Originator/Director of the first and second Caribbean Storytelling Festivals in Barbados and adviser to the Cayman Islands Gimistory Festival.
Ken has published three CDs, one of ALL AH WE (Marc Up), and one of Marc Matthews' (SMALL DAYS).
See and hear more of Ken Corsbie CDs at eCaroh.com: